Welcome to the Original WhistleStop Cafe Store
4-Blends Seasoning | 3.55-oz | 4-in-1 Shaker
117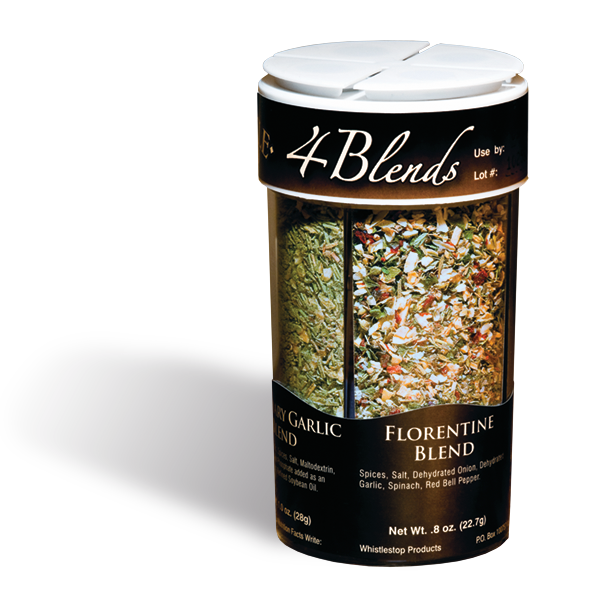 Convenient shaker contains four delicious spice blends in one bottle

The four spice blends are: Tuscany, Florentine, Rosemary Garlic, and Mediterranean

Awesome for seasoning your favorite dishes…bread dip seasoning, pizza, salads, soups, meats, veggies, and pasta

Time-tested recipe blended from the finest ingredients

Southern home cooking at its finest, down home and delicious
4-Blends Seasoning is a Single bottle with four separate compartments, each with a delicious spice blend that can be used to enhance the flavor of almost any dish that you already enjoy and will help you create new favorites as well. Great on Pasta, Salads, Vegetables, Chicken, Fish. Add flavor to popcorn, baked potatoes and use with olive oil to make delicious flavors for bread dip. Mix some olive oil, vinegar and or wine with seasonings to make your own delicious salad dressings. Uses are endless and flavors are scrumptious. Recipes and ways to use available.
4-Blends Seasoning includes one compartment each of
Rosemary Garlic: A unique combination of rosemary, garlic and spices
Florentine: A zesty mix of spinach, onions, garlic and red pepper
Mediterranean: A spicy merger of garlic, onions and peppers
Tuscany: A rich harmony or garlic, tomato, red bell pepper and parsley.
Try some today. With these options you can use 4-Blends on your choice of sauces, marinades or flavor boosters every day of the week.